As if they wouldn't be.
Loads of signage at the protest blamed Disneyland for underwriting Anaheim police brutality, but hey, they're communists. The whole system's racist, remember?
From Gabriel San Roman, at the O.C. Weekly, "
Anaheim Police Were Ready to Protect Disneyland at Yesterday's Anti-Police Brutality Protest
":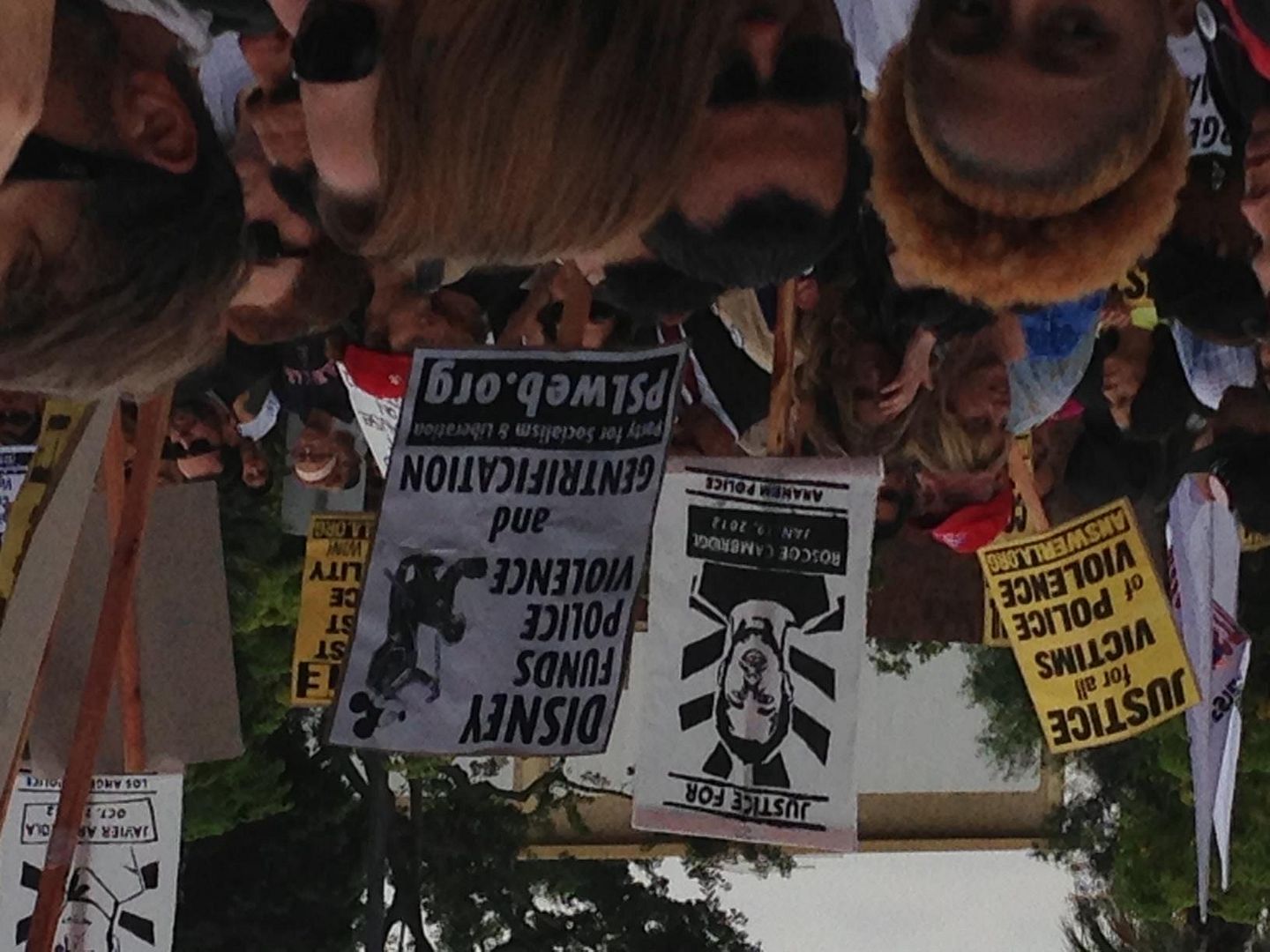 With organizers of yesterday's statewide anti-police brutality demonstration in Anaheim failing to publicly disclose where exactly it would end up after its City Hall kickoff, a sense of ambiguity lingered in the air. This was especially the case with regards to the question if there was going to be an attempt to take the Harbor Boulevard bridge into Disneyland and show the Mouse up.
With this in mind, friend of the Weekly Duane Roberts and I spent much of the day photographically documenting the positioning of police 'assets' throughout central Anaheim to see what they were up to. First up? Finding the command post!

Back on July 29, 2012, a highly visible, highly militarized police presence was made known to all who dared protest the weekend following a night of riots in the city. The staging ground for all of APD's 'assets' was the public parking lot north of Glover Stadium. When "tone setters" beckoned and the fatal officer-involved shooting of Manuel Angel Diaz was ruled justified this March, Anaheim police took to the same location during the first city council meeting after the fact preparing for any possible civil disturbance.

This time around? Not so much! Well before the 1 p.m. scheduled start of the protest, the homeless of La Palma Park weren't cleared out and the lot was empty. (Although we would later discover tons of cops parked and eating at the nearby Carl's Jr.!) Unlike last year's demonstration, the police presence was not so easily visible and this was the first sign of that. Roberts, who methodically publishes the Anaheim Investigator Blog, had an idea.

After checking out the Anaheim Police Department's headquarters on Harbor, vehicles began deploying from the back. We tailed some patrol units to see if they would lead us in the right direction. They turned left onto South Street and were followed by a fleet of motorcycle cops who led us right to the command post at Central Yard. "There it is!" Roberts said lighting up like a damn Christmas tree!

More obscured from the public view with high walls, a whole lot of cops could still be seen. Parked at the command post were horses, trailers, an Anaheim SWAT vehicle, armored vehicles and numerous patrol cars--both marked and unmarked. Interim Chief Raul Quezada and his staff were congregating in an alley open to both Vermont Avenue and South Street. Should there be any impromptu attempt by protestors to take Harbor en route to Disneyland, police positioning could easily 'kettle' them, pinching like crab claws from both sides. As the prescient, fish-eyed Admiral Ackbar from Star Wars warned, "It's a trap!"

Back at City Hall, the assembly of protestors numbered at about 500 hundred at its peak. The large parking structure behind it was closed off for supposed "maintenance." Spotted among the crowd was James Armendaris, Manager for OC Human Relations' Police Community Reconciliation Program, snapping photos before the march headed down Broadway Avenue towards Harbor. The gathering eventually stopped in front of APD headquarters as speaker after speaker rallied for hours from atop a stage truck. Once again, Roberts and I took off to see if police assets had already been re-positioned from their command post.
There's still more at
the link
.
But I'm scratching my head here. Do idiot leftists seriously believe that the cops are just gonna go home for the weekend when anarchists, communists, drug-addled dirtbags, and everyday leftist scum are amassing for a riot?
Yes they do, apparently. Damned morons.